Nani ruled out of Portugal's World Cup 2010 campaign
• Manchester United winger out with shoulder injury
• 'After tests we concluded he is unfit to participate'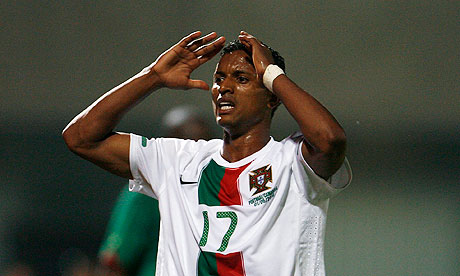 Portugal's Nani has been ruled out of the World Cup with a left shoulder injury. Photograph: Rafael Marchante/Reuters
Nani Portugal's Nani has been ruled out of the World Cup with a left shoulder injury. Photograph: Rafael Marchante/Reuters
The Portugal winger Nani was ruled out of the World Cup today with a left shoulder injury. "After tests we conclude he is unfit to participate in the World Cup," the Portuguese Football Federation said in a statement. Nani picked up the injury in training on Friday in Lisbon before flying to South Africa.
The full statement read: "Following the injury to the left clavicle suffered by Nani, a daily assessment of the damage and the completion of medical tests, we have concluded he is unable to be competitive. The medical file will now be presented to the medical department of Manchester United.
"In light of the report, the Portuguese Football Federation, taking into account the Fifa regulations for the 2010 World Cup, will call up Ruben Amorim as a replacement."
The player had previously been optimistic of playing in South Africa despite the injury and said yesterday: "I feel better already. I really don't know, now we have to see. When we get there [Johannesburg] we'll have to check again."
Nani had a good season with Manchester United, during which Sir Alex Ferguson said he had matured as a player and that it was the winger's best so far at the club.
Portugal have no other injury concerns apart from the defender Pepe, who has missed most of the season with Real Madrid but was included in the squad after regaining full fitness. Portugal face Brazil, Ivory Coast and North Korea in South Africa.
----------------------------
http://www.guardian.co.uk/football/2010/jun/08/nani-out-world-cup-2010
What's with so many injuries? Gutted for him really, could have been a crucial player for Portugal.